Amazing Mental & Physical Stimulation & Energy From "Bulletproof Coffee"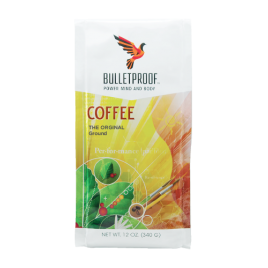 Just enjoyed my morning cuppa of gorgeous tasty, frothy "Bulletproof Upgraded Coffee".  I know I'm enjoying the highest quality coffee beans and at the same time getting amazing mental/physical stimulation and sustained energy from it.
Thank you Dave Asprey for introducing us to "Bulletproof Upgraded Coffee", a blended drink made of  Upgraded Coffee blended together with grass-fed unsalted butter and MCT Oil.
Dave was on an obsessive pursuit to find the absolute lowest toxin, highest performance coffee beans on the earth and he did. This coffee makes you feel noticeably better than anything else you'll find. You'll never go back to your corner coffee house again. Did you know that cheap coffee steals your mental edge and actually makes you weak, but clean coffee is actually healthy, and gives you important antioxidants?
"Bulletproof Upgraded Coffee" has amazing health benefits and also  tastes great  – with a fruity aroma with hints of apples, cherries and vanilla.  Clean and bright, Upgraded Coffee is a well-balanced coffee with a full body and undertones of caramels in the creamy finish.  Mmmm.
The idea is you brew it  and then blend it with  unsalted, grass-fed butter, along with an extract of coconut oil that improves brain energy. Yes, butter. All the benefits of healthy milk fat with none of the damaging denatured casein proteins found in cream. It makes for the creamiest, most satisfying cup of coffee you've ever had. It will keep you satisfied with level energy for 6 hours if you need it, and because I'm having it for breakfast, I'm programming my body to burn fat for energy all day long!
           How Do I Make It?
Brew 1 cup (8-12 oz.) of coffee using filtered water, just off the boil, with 2 1/2 heaping tablespoons freshly ground Bulletproof Beans (French Press/Cafetiere is easiest.)
Add in 1-2 tablespoons of MCT Oil to the hot coffee (It's STRONG – start with 1 tsp. and work up over several days).
Add 1-2 tablespoons grass-fed, unsalted butter or ghee
Mix it all in a blender for 20-30 seconds until it is frothy like a foamy latte
It's really fast and easy to prepare.  Realise salted coffee is a crime. Do not do this with salted butter!
Kerrygold butter or another grass-fed brand of butter really matters because corn or soy-fed cows don't make butter with the same fats. Those butters don't blend well, don't taste good, and don't make you feel Bulletproof.
Grass-fed butter is much healthier than other butter.  It doesn't make cholesterol levels worse, it optimizes them!  Starting your day with grass-fed butter will give you lots of energy and it will give your body healthy fats that it will use to make cell walls and hormones.
If you're like most people who try this, your body is so starved for healthy fats that you feel like you can't get enough. It will take your body a week or two to fully turn on its fat digestion systems when you switch to a high healthy fat breakfast of Bulletproof Coffee. If at first it is a little too rich, try using less butter initially then build up to the amount you like. Taking a betaine HCl or digestive enzyme supplement with your coffee will also help your body digest the butter.
Try this just once, with at least 2 Tbs of butter, and have nothing else for breakfast. You will experience one of the best mornings of your life, with boundless energy and focus. It's amazing.
After one drink of  Bulletproof Coffee you'll never be tempted to eat fat-free, insulin-raising, fat-storing toast and oatmeal breakfasts again!
So, what are you waiting for?
Not sure of your local stockist?
Enjoy!