Stop Those Pesky Sugar Cravings In Their Tracks!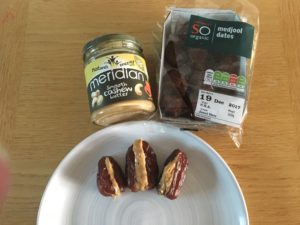 Sugar cravings around 3 o'clock in the afternoon are very real.
Here's a perfect quick and healthy snack that's so delicious – and good for you too!
Just 2 ingredients : Organic Medjool Dates and Meridian Cashew Nut Butter (or Meridian Butter of your choice)
To prepare : Make a small lengthways slice into the Medjool date with a knife – not all the way through – just enough to prize the date open.
Pull out the "pit" / small stone that's inside.
Fill the Medjool date with your nut butter of choice (I personally prefer Cashew or Almond)
That's it – I promise they are very tasty and won't last long in the house!
Medjool Dates – Their Health Benefits Are Remarkable
Medjool Dates – Often referred to as "Nature's Power Fruit" are packed full of vitamins, minerals and fibre.
Definitely worth adding them to your shopping list.
They're deep brown in colour.  Inside they're moist and meaty and they have a delicious caramel-like flavour.
Just look at their many amazing healthy benefits!  :
They help to reduce cholesterol.
They help to keep you regular – They're a natural constipation remedy.
When you need a healthy boost of energy – reach for your Medjool dates – a perfect pre-workout snack.
They're good for a healthy heart.
They're a healthier alternative to sugar – much healthier than a brownie or sugar-loaded chocolate bar.
Dates are high in calcium and a food high in phosphorus, both of which build strong bones and teeth.
Improve vision.
Regulate hormones.
Boost metabolism.
Start Spreading The Good News About Nut Butter
Per serving nut butter has one of the least amounts of calories.
Nut butter is your weight loss friend.
A great way of getting good fats and proteins into your diet.
Stabilises blood sugar.
Cashew or Almond butter is healthier than peanut butter and a great alternative for anyone allergic to peanuts.
Cashew butter is high in zinc which is good for managing hormones and important for healing.
Antioxidant bursting and with oodles of vitamins and minerals.
So there you have it – a sweet and satisfying healthy snack!