Do You Work To Live Or Live To Work?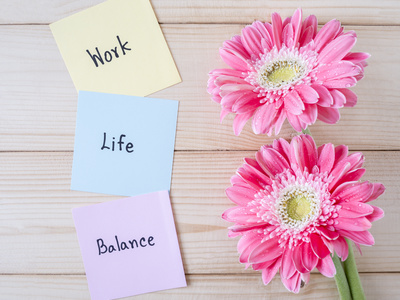 " You can have it all, just not at the same time!"
Arianna Huffington
Is Your Obsession With Being Busy Wrecking Your Life?
Do you find yourself talking, eating, dressing, listening, texting all at the same time – along with one eye on the TV?
Are you always multi-tasking and finding it impossible to just focus on one thing at a time?
Is the treadmill of life keeping you running around at seemingly a million miles per hour?
Are you making "To Do" lists to remind yourself to do "To Do" lists?
Have you noticed how during the change of seasons, you're particularly susceptible to feeling off-balance? – perhaps even more so than at other times of the year, and it just seems that there's not enough time in the day to do everything you need to do?
What Role Do You Play?
Are you a high-powered executive rushed off your feet and overwhelmed at work?
Maybe  you're a "stay-at-home" mom, constantly struggling to find balance between the needs of your family and your own needs – for exercise, time to read or be alone, to visit with friends, even to take a long hot shower etc.
Perhaps you're in the house all day doing the hardest work imaginable: caring for the young, the old, or the ill?
Also if you're not married or not a parent, you're very probably still struggling to find a good balance in your life, struggling to develop a social life or getting some downtime. Or maybe you keep saying yes to things and then resent having to do them?
Balance is certainly an issue for most of us.
It's incredible, if you search on Google "How to find balance in your life" – 191,000,000 results come up!
But why are we all having so much trouble finding balance?
What If You Don't Jump Off That Treadmill & Practice Some "Self Care"?
If you don't make some changes – all that extra physical and mental stuff you're lugging will complicate your life, weigh you down, and keep you stuck.
All those "shoulds," worries, guilts, and regrets will clutter up your mind.
Are you going to keep constantly thinking "What do I do now, what do I do next?"
You'll keep being pulled in lots of different directions – frantically keeping up every minute with social media, your mobile phone or ipad, trying to take in so much data, until it becomes complete overload.
Poor health is the inevitable price paid for never switching off. Our bodies and brains repair and regulate during sleep.
The brain doesn't have an off-switch you can simply press at bedtime — it needs to be allowed to relax at various points through the day, otherwise it won't be able to stop whirring at night.'
What Do Celebrities Do To Relax?
We all have the same number of hours in a day as Beyonce – it's what we do with them that counts!
Richard Branson is know for his wild adventures and having lots of interests and hobbies. One of his favourite being his kitesurfing in which, with suitable wind conditions, you might find him surfing around his famous Necker Island (occasionally with a scantilly-clad model on his back!)
Oprah Winfrey is a fan of Transcendental Meditation.  She practices sitting in stillness for 20 minutes a day. She says "Only from that space can you create your best work and your best life". If you could just find a few minutes each day for such a ritual, it may help the rest of your week seem manageable.
Simon Cowell, X Factor Judge & former American Idol judge once told Entertainment Tonight "I climb trees daily" and he likes to watch cartoons each morning, like the Flintstones and The Jetsons.  He said it's less depressing than watching the news.
Yes YOU TOO Can Take Your Life From Burnout To Back On Track!
There's so much to be said for making sure you have an active and well-balanced life inside and outside of work.  It'll keep you sane, reduce your anxiety and protect you from burnout.
It's time to surrender and accept that you're not superhuman.
You can't do it all at once and if you can accept that, you will begin to realise that's the pathway to balance and the balance will start to create more flow, more peace, more happiness and health in your life.
Be mindful when you have your shower in the morning, really feel the warmth of the water on your back and the fragrance of your shower gel.
When you're listening to your kids talking, really listen to what they're saying, rather than mentally making a "To Do" list in your mind.
Do try to give whatever you're doing your full attention.
Make sure you spend some quality time with close family and friends.
Think about "What are the few things you truly want to say yes to?"
Also, most importantly, allow some time for yourself, just to have some quiet time.  Recharge everyday – read a book, take a walk in nature or meditate for a few minutes a day.
Remember that achievements and failing sometimes are a part of balance. Do you tend to focus more on your failures? Then try to notice some of those small successes in your life.
Remember, if you don't prioritise your life – someone else will!
Please Note – 
Bear With Me!
I'm just in the throes of  rebuilding my website right now and putting new systems in place.
I'll be answering these questions –  and more – of your "burning" questions via my future newsletter and ebooks.