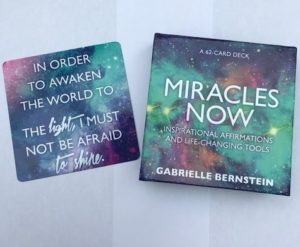 This is such a beautiful little deck of 62 "Affirmations for Spiritual Growth & Healing Cards" – You'll absolutely love them!
They're by "No 1 New York Times Best Selling Author & Spirit Junkie" Gabrielle Bernstein.
Make sure you keep your box to hand and choose a card for some daily inspiration.
Gabrielle says "My hope is that you'll use this deck daily as a spiritual guide to help expand your miracle mind-set.
When in doubt, put your hand on the deck and say – Thank you, divine guidance. I need a Miracle Now.  Show me what you've got!"
Trust in the guidance you receive and let it inform your next right action.
The cards are colourfully illustrated, sturdy and the edges are gilded in silver, so they're sparkly and uplifting as well.
I love to choose my daily card and see what powerful life-changing message is in store for me!
Get the "Miracles Now" Cards:
Miracles Now: Inspirational Affirmations and Life-Changing Tools